BEER
Inherited techniques
+ fresh ideas
Outsider Brewing continues to refine the techniques passed down from Satoshi Niwa, a well-known brewer in the Japanese craft beer world, and continues to make even better beer with fresh ideas, while making unique improvements to recipes with flexible thinking.
OWNED

BAR
Brew pub

Hops&Herbs

Beers full of character, fermented and slowly matured in the brewery on the first floor can be enjoyed at our taproom on the second floor.

Australian Bar

The Vault

Coming soon!

Unfortunately, the area is being redeveloped and The Vault will temporarily close in the near future.

This Australian-style bar offers a selection of over 200 beers, whiskies and liqueurs with two Outsider beers on tap.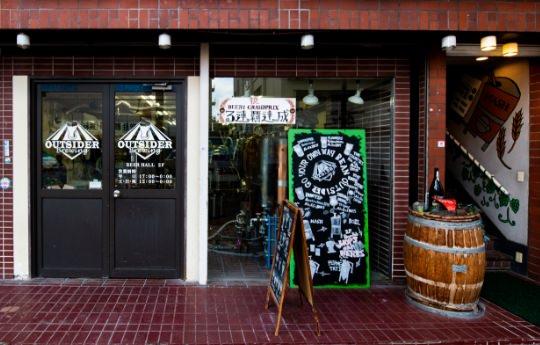 1F Miyazawa Bld, 1-1-5 Chuo Kofu Yamanashi 400-0032
TEL:055-223-2622
Business hours: 9:00-17:00 (closed Sundays)
# Brewery tours are not available.
# Hops and Herbs reservations are not accepted here.